Venues
While TLC uses a number of venues, most classes take place at the numbered locations shown on the map. The course description page indicates the venue for each course.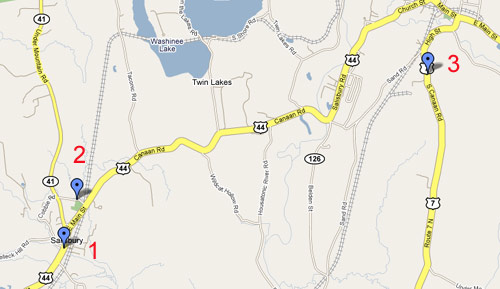 | | |
| --- | --- |
| | (1) [NOTE: TLC no longer holds classes at the Scoville Library.] Classes at the Scoville Library in Salisbury are held in the Community Room located on the ground level. Access is from the parking lot area at the rear of the building. |
| (2) The Learning Center at Noble Horizons is at the rear of the main building and is accessed through the main door. | |
| | (3) Classes at Geer Village in Canaan are held in various rooms, usually on the second floor of the main building. Access is through the main door; the attendant at the reception desk can direct you to the correct room. |
Parking at all our venues is usually tight during TLC class hours, and we encourage students to carpool whenever possible. All usual venues are wheel-chair accessible.